Reviews
Unravelling brains poster
⭐⭐⭐⭐⭐ 
Amazing poster! Came in good time and really tied together my working from home area ✨
(Amrita via Etsy, 17/12/2020)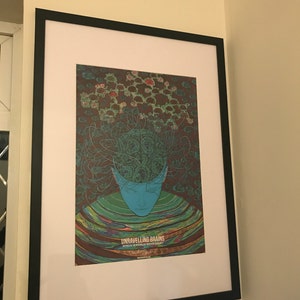 ⭐⭐⭐⭐⭐ 
I had frames for this poster for a while before ordering the work of art itself, it is absolutely perfect for decorating the home workspace. There were issues with delivery initially but I was kindly sent a replacement and it arrived swiftly. 
(Nelli, via Etsy, 24/09/2020)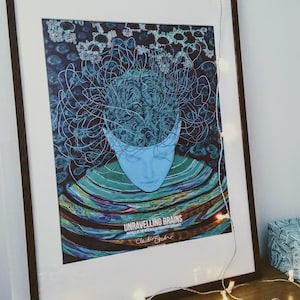 ⭐⭐⭐⭐⭐  
The print came in perfect shape and is just what I was looking for! Love it!
(Maria, via Etsy, 13/05/2020)
⭐⭐⭐⭐⭐ 
It's the part of my inspiration wall and it looks great.
(Rachana, via Etsy, 29/06/2019)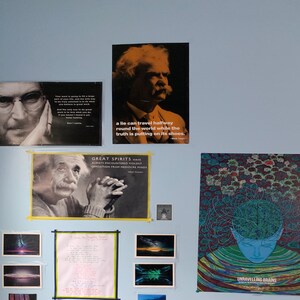 Brave New World: Mustard Water poster
⭐⭐⭐⭐⭐ 
Beautiful product and outstanding costumer service!
(Helene, via Etsy, 15/09/2019)
⭐⭐⭐⭐ 
Really beautiful poster. Good quality paper. Tube that contained it was missing the end plastic bit so could've been a disaster but luckily poster was only a tiny bit bent in one corner.
(Dita, via Etsy, 02/11/2020)
Brave New World: The Hatchery poster
⭐⭐⭐⭐⭐ 
Beautiful art and the paper feels sturdy. We encountered some delay (not due to the shop) but the seller was very considerate and managed them well.
(Lisa, via Etsy, 02/02/2019)
Women in STEM T-shirt
⭐⭐⭐⭐⭐ 
I love the feminine, fitted style of this T-shirt. Unfortunately, I should have ordered a large, since the medium fits skin tight on me prior to washing. So I would say sizes run small for US shoppers. The design is an iron-on decal. I wonder how the cloth is printed? I am tempted by the bacteria images.
(Kathie, via Etsy, 17/05/2019)
Christmas DNA jumper
⭐⭐⭐⭐⭐ 
Fantastic design! I got this for my office Christmas party and it was a big hit. I was concerned about getting it in time and Claudia was very helpful. Highly recommended.
(njb815, via Etsy, 16/12/2018)
Deconstructing C. elegans fine art print
⭐⭐⭐⭐⭐ 
Great quality! Absolutely beautiful! Great customer service.
(Rebekah, via Etsy, 14/11/2019)
Dresses
Black bacteria cotton wrap dress
⭐⭐⭐⭐⭐ 
I had this personally made for me so I could teach science and it is absolutely PERFECT. The sleeves are perfect, the length is perfect, even the bust is perfect. She made this style for me because I requested something for bigger busts. I 100% would order from her again!
(Tae, via Etsy, 11/02/2021)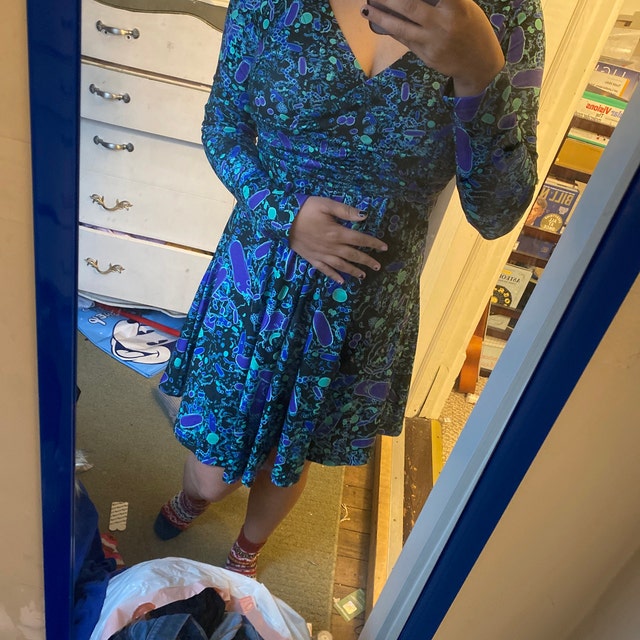 Black neurons wrap midi dress (science dress)
⭐⭐⭐⭐⭐ 
I absolutely LOVE this dress! I wear a US size 14-18 (depending on the cut of the dress) in Jeans a 16, Shirt XL, bra D cup. I'm short. And I was skeptical because a dress I bought from this shop before was in a size I thought would fit. But I bought this in a 3XL after I discussed things with the shop owner. They are so great! Even with COVID shipping issues internationally they kept me updated. And I couldn't be more excited and happy! I will DEFINITELY be ordering more of this style of dress in the future. I need a white blood cells and red blood cells dress now! 🥰 😊
(Faith, via Etsy, 06/07/2020)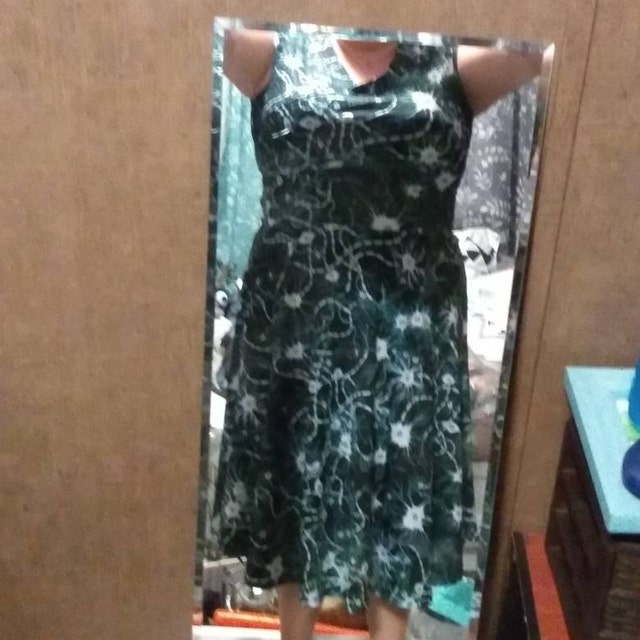 Caffeine wrap midi dress
⭐⭐⭐⭐⭐ 
I really like this dress! The fabric is not flimsy (I had feared it would be), but of a nice quality, and the print is really cute. It also looks well-made. The fit is a little snug, so if you are between sizes, I recommend ordering the larger size. The only thing I would change is that the waistline is about 5 cm lower than would be ideal on me, but I can easily alter that myself.
(Lina, via Etsy, 01/07/2020)
Red caffeine wrap dress (science dress)
⭐⭐⭐⭐⭐  
This dress fits perfectly. It compliments my figure. It's very comfortable as well. I love it!
(Lorri, via Etsy, 15/07/2019)
DNA wrap midi (science dress)
⭐⭐⭐⭐⭐ 
Love it! I would consider ordering a size larger, it's somewhat in between what I would expect for a medium and large, and I ordered a large.
(Elena, via Etsy, 08/06/2020)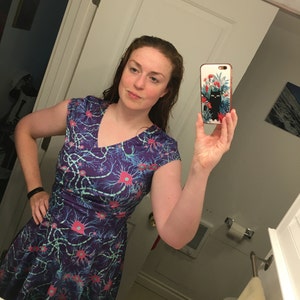 Red blood cells wrap midi dress
⭐⭐⭐⭐⭐ 
Love this dress! I get compliments on it every time I wear it. One of the white blood cells did get stretched out and so it looks white in the middle but I'm sure that was just just accident during packaging.
(tamihaymond1, via Etsy, 02/03/2020)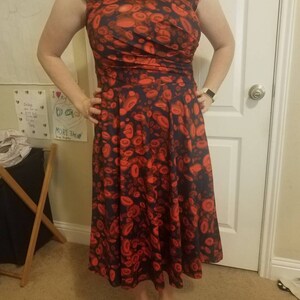 DNA wrap midi dress (science dress)
⭐⭐⭐⭐⭐ 
I ordered this in the blue, and I couldn't be more satisfied with the quality. It is made from the most comfortable, stretchy fabric, which makes it a delight to wear! The sizing was spot-on, and it fits me perfect. I can't say enough about the quality! I am in the US (NY) and I received this dress a mere 2 weeks after I ordered it, so the time between ordering and shipping was great as well! The seller was patient with all of my questions and made my purchase an easy one. A+ seller!! Thanks again!!
(Heather, via Etsy, 28/11/2019)
Neurons wrap midi dress (blue/yellow)
⭐⭐⭐⭐⭐ 
I love this dress! The print is fun! I work in a behavioral health agency and when I wore it, received many compliments.
(Rhonda, via Etsy, 05/02/2019)
 Monochrome model organism leggings
⭐⭐⭐⭐⭐ 
The fabric is not see through and the recipient loved these!
(Frances, via Etsy, 25/01/2021)
Bacteria shapes leggings
⭐⭐⭐⭐⭐ 
Great pattern. Runs a little small, but fits fine.
(AK, via Etsy, 09/12/2019)
⭐⭐⭐⭐⭐ 
Really liking these leggings. They're not the athletic type leggings but ones I wear to lounge around the house or run errands in. Very unique and I get lots of compliments.
(petersbrittanyj, via Etsy, 01/05/2018)
Red caffeine molecule leggings
⭐⭐⭐⭐⭐ 
These were a gift and were greatly appreciated!
(Clara's, via Etsy, 12/01/2019)
CRISPR leggings
⭐⭐⭐⭐⭐ 
Cute item, excellent communication - thank you very much!
(nurse10321, via Etsy, 20/06/2018)
Cotton DNA tennis dress (science dress)
⭐⭐⭐⭐⭐ 
Exactly as described! Fits and looks great! Seller had great communication.
(Taryn, via Etsy, 11/08/2020)
CRISPR tennis dress
⭐⭐⭐⭐⭐ 
Shipping was a bit difficult, but it is not Claudia's fault. Dress is very soft and pretty.
(Massa, via Etsy, 01/10/2019)
Cotton neurons tennis dress (science dress)
⭐⭐⭐⭐ 
Odd shipping set up, actually never got a tracking number, but I did get it and its cute. Love the fabric. Slightly shorter than I expected, more of a sundress than a work dress.
(happyrandom, via Etsy, 11/06/2020)
Cotton neurons tennis dress - green
⭐⭐⭐⭐ 
Cute. I expected a different fabric but it is still nice to wear and have gotten compliments from other neuroscientists.
(boomila3, via Etsy, 11/04/2019)
Cotton white blood cell tennis dress
⭐⭐⭐⭐⭐ 
This dress is very soft and comfortable. I think it is pretty flattering too! I bought the leggings as well and I have gotten many compliments on them!
(Anna, via Etsy, 21/03/2019)
CRISPR tennis dress
⭐⭐⭐⭐⭐ 
Very fun dress. Great craftsmanship and comfortable material. Also, the shop owner is very helpful.
(Julia, via Etsy, 05/11/2018)
DNA smock dress (science dress)
⭐⭐⭐⭐⭐ 
Look at my wife I bought this for wife as gift and she loved it thx
(Imtiaz, via Etsy, 05/07/2020)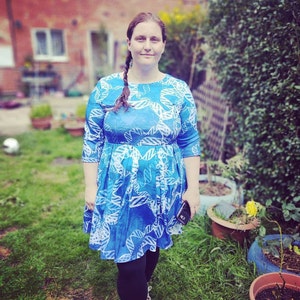 Neurons smock dress
⭐⭐⭐⭐  -
Color doesn't look as good as in the pictures and material feels cheap, but I'm a big fan of the shape. For a bit of a novelty dress, it does the job.
(nc4everyoung, via Etsy, 18/09/2019)
DNA smock dress
⭐ ⭐ ⭐⭐ 
Shipping and communication with the shop were great. Dress is a stretchy material that I wasn't expecting it to be, kind of like spandex. The dress also shipped from China, which I wasn't aware of when ordering. But overall, it's a super cute fun clothing item!
(Ellen, via Etsy, 31/03/2019)
Bacteria cells smock dress
⭐⭐⭐⭐⭐ 
I love the dress! It arrived even earlier than expected, and Claudia was super helpful with placing the order. Highly recommended! I will probably repeat! :)
(Veronica, via Etsy, 22/01/2019)
DNA midi scoop dress
⭐⭐⭐⭐ 
Absolutely love this dress, so much that I have now ordered more Vivid Biology dresses in the other styles/designs. The fabric feels lovely. It works for the summer, and also with a cardigan in cooler weather. The *only* downside is the "handwash only" instruction, which I assume is to do with the print (as the label on the dress itself says machine wash is OK).
(katherineellis37, via Etsy, 15/11/2018)